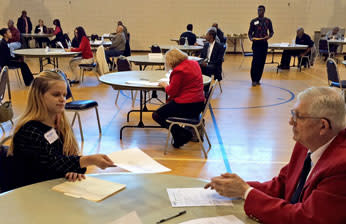 More than a dozen Genesee County employers have been selected to provide jobs for hundreds of teens in the 2015 Summer Youth Initiative (SYI) administered by the Flint & Genesee Chamber of Commerce.
Through SYI, local businesses can hire area students during the summer for half or less of their normal hiring and employment costs.
By hiring SYI applicants, employers have the opportunity to employ teens who are ages 14-18 and in grades 9-12. For-profit employers are eligible for a 50 percent match of the students' salary for the first 90 days of employment.  Nonprofits compete for funding to pay 100 percent of employing the students.
Employers for the 2015 SYI program include:
Beecher Community Schools
Boys & Girls Club of Greater Flint
Catholic Charities Mr. Rogers Program
Catholic Charities NESK Summer Kids Camp
Christ Enrichment Center
Flint Coalition for Youth Baseball/Softball
Flint Community Schools
Flint Public Library
Food Bank of Eastern Michigan
Genesee County Parks & Recreation
LakeVille Community Schools
Linden Community Schools
Michigan Community Services Inc.
Mott Community College
"SYI provides teens with valuable training and that all-important first job," said Tim Herman, Chamber CEO. "The program also provides a great opportunity for local employers who might not otherwise be able to afford summer help. Because of the success of this program, we have hundreds of teens earning a paycheck and spending it right here in Flint & Genesee. It's another economic stimulus to help boost our economy."
Nearly 1,200 graduates of the Chamber's TeenQuest program competed for the summer jobs with the employers during an invitation-only SYI Job Fair on April 25.
All SYI applicants are successful graduates of TeenQuest, a year-round pre-employment leadership training program designed to teach important job skills necessary to get and keep a job.
"Through our five-week TeenQuest program, teens learn how to stand up and stand out, giving them a significant advantage when looking for summer employment," said Rhetta Hunyady, Vice President of Education & Training for the Chamber, which also administers the TeenQuest program.  "SYI provides the work experience that increases their odds of success in the job market as adults."
In 2014, more than 600 teens were employed through SYI, the Michigan Department of Natural Resources, the Workforce Investment Act (WIA) and some for-profit businesses.
For more information about SYI or TeenQuest, contact Hunyady at rhunyady@flintandgenesee.org.