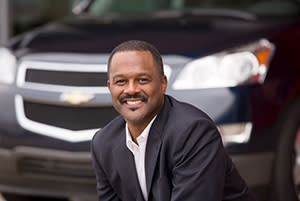 Gerald Johnson, GM North America Manufacturing Manager, was the keynote speaker at the Chamber's 2014 Annual Meeting.
(FLINT, MICH. – April 2, 2014) Today, the Flint & Genesee Chamber of Commerce held its 2014 Annual Meeting at the Holiday Inn Gateway Centre.  The meeting focused on the impact the Chamber is having on the region in 2013 and success stories.
According to Tim Herman, Chamber CEO 2013 was a great year for the Chamber and the region.  He says the positive trajectory will continue in 2014.
"The Flint & Genesee region sustained positive momentum in 2013, and we were proud to have played a leadership role," said Herman.  "We influenced millions of dollars in investment, worked with local businesses to create and retain jobs, and attracted tourists to the region. All of these things are having a positive impact on economic growth and prosperity in Flint & Genesee."
Following are 2013 accomplishments directly related to the Chamber's efforts:
$442 million of total investment and contract value (25 investment projects)
25 investment projects generated an estimated $246.3 annual payroll.
1,974 jobs created and retained
2,118 government contracts won through the Chamber's Procurement and Technical Assistance Center (PTAC).
$123 million in tourism economic impact due to overnight hotel room rentals in Genesee County.
Served 14,443 students through 402 career prep workshops.
Graduated 621 students from the TeenQuest leadership and pre-employment training program.
Conducted workshops, which served 577 firms and trained 960 employees.
Hired 548 teens through the Summer Youth Initiative (SYI) Job Fair.
Served more than 2,163 students in county elementary and middle schools through YouthQuest.
Added 192 new members for a total of 1,044 members and affiliates through December 2013.
Hosted more than 4,130 people at Chamber events.
Gerald Johnson, GM's Vice President of North America Manufacturing delivered the keynote address.  His remarks focused on GM's Flint activities and a product update.
"Congratulations to Tim Herman and the entire Flint & Genesee Chamber team for an outstanding year in 2013," said Joe Serra, President of Serra Automotive and Chamber Board Chair.  "Their results placed the Chamber in a position of strength to continue the positive momentum throughout 2014."
A copy of the Chamber's Annual Report is available online at flintandgenesee.org.