Youth to Clear Paths at Holly Based State Parks on Tuesday, August 18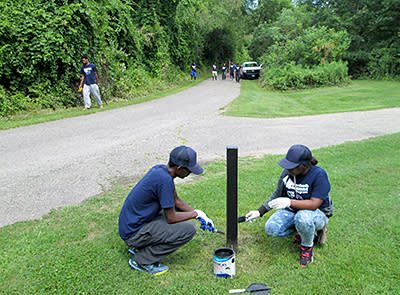 (FLINT, Mich., Aug. 17, 2015) – A $200,000 grant from the Michigan Department of Natural Resources (MDNR) is helping support outdoor employment opportunities for teens in Flint and Genesee County.
The youth, ages 16 to 19, are graduates of TeenQuest, a free afterschool pre-employment and leadership training program provided through the Flint & Genesee Chamber of Commerce. Once the teens have graduated from the five-week program, they are eligible to compete for summer jobs – including several funded by the MDNR grant.
"We have been very fortunate to find a partner in the MDNR," said Tim Herman, CEO, Flint & Genesee Chamber. "Over the past three years, they have helped hundreds of our TeenQuest graduates secure summer employment throughout the county. Their support has played a major role in helping strengthen our region's entry-level workforce."
Teens employed through the MDNR grant are tasked with outdoor work assignments at 14 area organizations. These agencies include Applewood, Cathedral of Faith, Catholic Charities, Family Housing, Fighting Blight in My City, Genesee County Parks, Greater Holy Temple, International Academy, Kearsley Lake Golf Course, the Land Bank, MTA, Second Chance Ministries, Swartz Creek Golf Course and Youth Karate-Ka.
As part of the summer employment program, about 75 youth will clear paths and lead various beautification projects at Holly Recreation Area and Seven Lakes State Park from 9 a.m. to 3 p.m. Tuesday, Aug. 18.
"These park maintenance projects are yet another opportunity for our teens to further develop their teamwork, communication and leadership skills," said Rhetta Hunyady, Vice President of Education & Training, Flint & Genesee Chamber. "Not only will these youth be able to add 200 to 300 hours of on-the-job experience to their resumes by the end of summer, they will have a well-honed set of soft skills to offer future employers."
Youth in the summer employment program, which runs through Sept. 30, are employed through the Flint & Genesee Chamber and work a minimum of 10 weeks.
For more information about TeenQuest, visit www.flintandgenesee.org/learn/teenquest.