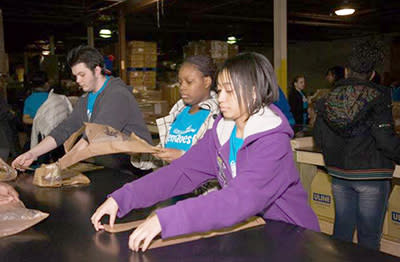 (FLINT, Mich., March 16, 2015) – Sometimes the best leadership skills are discovered by serving others. That's the idea behind the volunteer service that about 175 current TeenQuest students will undertake Saturday, March 21, at the Food Bank of Eastern Michigan in Flint.
The volunteer service is a pre-requisite for graduation from TeenQuest, a no-cost business etiquette program for Genesee County teens administered by the Flint & Genesee Chamber of Commerce. But it also is a win-win for the teens and the community, said Rhetta Hunyady, the Chamber's Vice President of Education and Training.
"At TeenQuest, we teach the value of teamwork and work ethic, so it's ideal when we can apply these business principles in a setting that helps those in our community who are less fortunate," Hunyady said. "Our decade-long partnership with the Food Bank has helped our teens learn many valuable lessons in charity that are just as vital to their success as the business skills are."
From 1-3 p.m. March 21, the teens will help sort donated canned goods and boxed food items that will then be distributed to clients in 22 counties.
The teens who volunteer at the Food Bank get a much-needed perspective on how working hard and making smart choices can make all the difference, said James Richardson, Agency Relations Manager at the Food Bank.
"Hunger issues touch every gamut of our population, from the babies to our senior citizens," Richardson said. "The teens who work or volunteer here get to see the benefits of giving back to the community while developing career skills. They also get to see up close the needs that exist in their own community."
TeenQuest is a five-week training program designed to help Flint & Genesee youths prepare for success. Students learn the basics of teamwork, business etiquette, work ethics, communication, goal setting and conflict resolution.
Students in the current TeenQuest session reside throughout Genesee County. Students from all five program sites – Baker Career Academy, Beecher High School, Lakeville High School, Northwestern High School and Swartz Creek High School – will participate in the March 21 volunteer project.
For more information about TeenQuest, contact Hunyady at rhunyady@flintandgenesee.org.
About the Summer Youth Initiative and TeenQuest
The Summer Youth Initiative is a program that helps Flint-area teens find paid summer jobs. It's open to students who've completed the TeenQuest afterschool program, which provides pre-employment and leadership training to students ages 14 to 19 to help them succeed in college and the 21st century workplace. In 2014, 630 teens gained experience and a paycheck working for 21 local businesses and agencies. Both programs are administered by the Genesee Area Focus Fund, a supporting organization of the Flint & Genesee Chamber of Commerce, with support from the Charles Stewart Mott Foundation. To apply or learn more, visit www.flintandgenesee.org/learn/syi/.