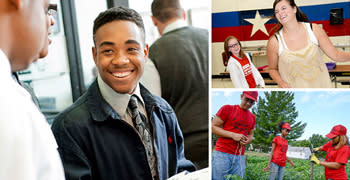 (FLINT, MICH. – April 22, 2014) TeenQuest graduates will employ the "TeenQuest Advantage" on Saturday, April 26, at the Summer Youth Initiative (SYI) Job Fair. Despite 74 percent unemployment among teens in today's economy, TeenQuest graduates have an advantage over their peers. TeenQuest prepares them for the workplace. They understand the expectations of employers, they have learned how to set goals, manage conflict and write a resume. They are ready to work.
Saturday more than 1,100 teens aged 14 to 18 will get their opportunity to make a first impression on 17 organizations looking for summer help. The event takes place from 7:30 a.m. to 6:00 p.m. at Baker College of Flint.
Students who graduated from TeenQuest, a free afterschool pre-employment and leadership program of the Flint & Genesee Chamber of Commerce (FGCC) are eligible to participate in the SYI Job Fair.  TeenQuest gives teens the skills they need to be more marketable and better able to keep a job once they get one.
"The Chamber takes seriously its commitment to preparing young people for their future with valuable training and that important first-job experience," said Tim Herman, Chamber CEO. "An added benefit of the program is that it provides a well-qualified talent pool for nonprofits and businesses when they are ready to hire summer help."
Through the SYI, for-profit employers are eligible for a 50 percent match of the students' salary for the first 90 days of employment.  Nonprofits compete for funding to pay 100 percent of employing the students.
"In these difficult economic times, it is harder and harder for teens to find summer employment," said Rhetta Hunyady, Vice President of Education and Training for the Chamber.  "Through the Summer Youth Initiative students gain that first paid work experience that increases their odds of success in the job market as adults."
"It is a wonderful program for the Park and the students," said Kay Kelly, director of Kearsley Park. Kelly employs students through the SYI program to help maintain Kearsley Park during the summer months. "I couldn't do everything that needs to be done without my SYI students," she said.
In 2013, nearly 550 teens were employed through SYI at more than 20 nonprofits and businesses in Flint and Genesee County.
TeenQuest is a free after-school pre-employment and leadership program for teens ages 14 to 18 designed to teach students the basics of teamwork, business etiquette, work ethics, communication, goal setting and conflict resolution. The six-week program is offered year-round and is a pre-requisite for SYI participation.
For more information about TeenQuest, visit https://www.flintandgenesee.org/learn/teenquest/.
About the Summer Youth Initiative and TeenQuest
The Summer Youth Initiative is a program that helps Flint-area teens find paid summer jobs. It's open to students who've completed the TeenQuest afterschool program, which provides pre-employment and leadership training to students ages 14 to 19 to help them succeed in college and the 21st century workplace. Both programs are administered by the Genesee Area Focus Fund, a supporting organization of the Flint & Genesee Chamber of Commerce, with support from the Charles Stewart Mott Foundation. To apply or learn more, visit www.flintandgenesee.org/teenquest.