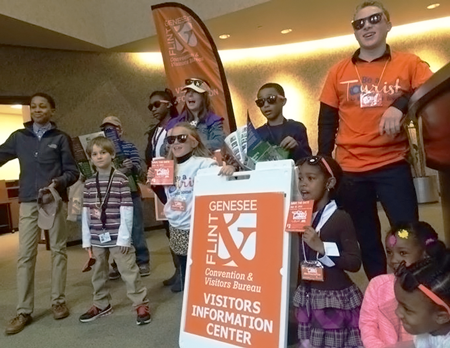 (FLINT, Mich., July 7, 2015) Looking to stretch your dollar? How about all the way around the city of Flint? The Flint & Genesee Convention & Visitors Bureau has you covered.
The CVB's third annual "Be a Tourist in Your Hometown" event from 10 a.m.-4 p.m. on Saturday, July 18, will give Flint & Genesee residents and non-residents alike the opportunity to experience the best the community has to offer – all for only $1.
"Tourists" purchase passports that will grant access to 30-40 venues throughout Flint. The passports are also valid for discounts in downtown Flint restaurants and businesses that day.
More than 600 passports were sold during last year's event.
"Every year, our event has grown to include more venues, more tourists and more business discounts," said Cheryl DeFrain, Director of the Flint & Genesee CVB. "There's no better value. We give tourists the passport, a map and a bus to ride, and they choose their own stops on the tour. Participants love being able to customize their own routes to whatever best suits their interests."
At some venues, tourists get special access to areas that usually are off-limits to the public. Some of the most popular Be a Tourist stops each year include:
Applewood, the Charles Stewart Mott estate
The Flint Cultural Center, which this year includes the completely renovated Longway Planetarium
The Michigan School for the Deaf Superintendent's Cottage
The Whiting
Glenwood Cemetery
New stops and corresponding events this year include:
Perani Arena & Event Center, home of the new Flint Firebirds
Stockton House at Spring Grove
Grace Emmanuel Baptist Church and its Family Fun Festival
Gospel Fest will be held on the grounds of the Flint Cultural Center
An American Institute of Architects Walking Tour
"The main complaint we hear every year is that tourists couldn't fit in all the stops because there's so much to see and do," DeFrain said. "We get people who haven't visited downtown Flint in years, and they thank us for showing them what's to see and do in Flint. They always vow that they'll be back."
Passports can be purchased online at https://webdev.flintandgenesee.org/events/tourist-home-town-2015-crm-bat/, where you also can see a full list of participating venues.
The passports can be picked at the Riverfront Banquet Center in downtown Flint on the day of the event, where tourists will also receive their maps and catch free bus rides complements of Flint MTA, a Be a Tourist co-sponsor.
The CVB supports Flint & Genesee for all tourism needs including, but not limited to, lodging, motor coach tours, conventions, sport activities, reunions, weddings, car shows and clubs, and individual tourism.
For more information, contact the CVB at (810) 600-1404 or cdefrain@flintandgenesee.org.
Media contacts:                               Elaine Redd                                        or            Misty Gower
Flint & Genesee Chamber                            Flint & Genesee Chamber
(810) 600-1418                                                   (810) 600-1434
###
About the Flint & Genesee Chamber of Commerce
Serving the community for over 100 years, the Flint & Genesee Chamber of Commerce is a premier business membership organization unlike most chambers of commerce.  In addition to traditional member services, our responsibility includes serving as the lead economic development agency for Flint & Genesee, marketing tourism, youth and business training, and a Shared Services Center.
Collaboration is one of our core strengths.  To affect real and lasting change, inclusiveness and collaboration are keys to success.  We form partnerships with private businesses, education and governmental agencies at the local, state and federal levels, as well as grant-making foundations to fuel economic growth and bring positive change to the region.  For more information, visit www.flintandgenesee.org.  Check us out on Facebook, Twitter and LinkedIn.